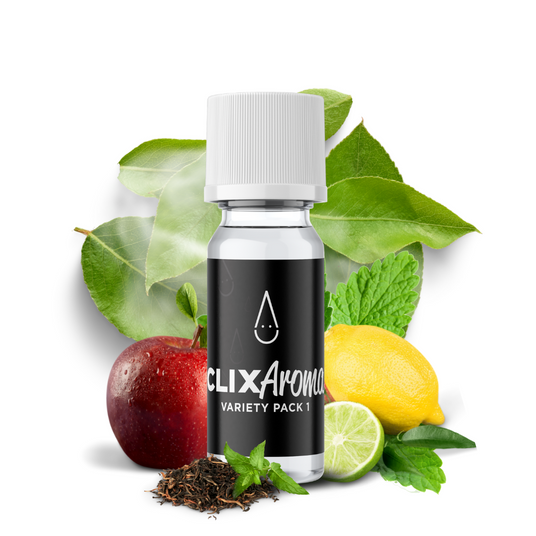 Variety pack 1
Includes Apple, Green Tea, Lemongrass, Omega, Patchouli, and Santorini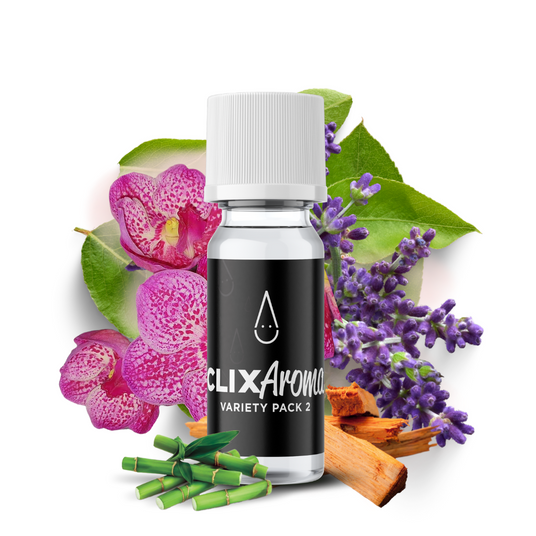 Variety pack 2
Includes Coco, Green Bamboo, Lavender, Orchid, Tea Garden, and Sandalwood
Apple

Fresh. Crisp. Mouthwatering. A fusion of juicy red apples, sweet berries and fresh flowers leads you among the apple orchard with a musky base note. Older than Johnny Appleseed, the apple scent has been used to treat headaches and migraines since medieval times with a soothing effect on the mind.

Coco

A mysterious, provocative scent that gradually reveals its contrasting notes. With a highly qualitative floralcy which is married by a warm ambery base. Heart notes of jasmine and orange blossom with base notes of amber and musk are perfect for the evening. Coco is a multifaceted fragrance that is sensual and sophisticated — a complex medley executed perfectly.

Eucalyptus

Aromatherapy fans love this multifaceted forest scent with hints of a sweet lemony twist. Calming and compelling notes are instant refreshers that create a relaxing mood. This fragrance has your back with a superstar scent that instantly chills out your senses — giving you that refreshed feeling. When you're ready to chill and want positive vibes, turn to Eucalyptus.

Green Bamboo

Green Bamboo is a clean fragrance with a lush and exotic scent. Top notes include bright melon & grapefruit, followed by middle notes of a floral heart of hyacinth, jasmine, and rose petals. Finally finished with a crisp, green, tropical bamboo and subtle woody nuance. This scent is the meeting place of your inner calm and sense of peace.

Green Tea

Excites the senses and invigorates the spirit, leaving a refreshing herbal impression. With green tea at the heart this scent ranges from "faintly sweet" to "invigorating" which creates a burst of freshness. This light and soothing scent lifts you up to incredible new heights both mentally and spiritually.

Lavender

An aromatic floral clean note, instantly recognizable with just one sniff. Described as "fresh" without being overwhelming, there's also a slight sweetness with herbal and balsamic undertones. Helps boost your mood on the road and your sleep when at home!

Lemongrass

As an aromatic herb, a little bit goes a long way but in the best way. Fresh, Lemony (obviously!), Grassy, Earthy & Sweet with spicy undertones. Breathe, relax and let all of your day's worries wash away.

Omega

Zesty and vibrant notes that deliver a fresh scent in a singular blend of serenity and exhilaration. Starting from fresh air fragrance top notes of a soapy and clean scent, Omega juxtaposes bright middle notes of white florals and fresh linen. The aroma lingers but never overpowers. Omega is a fragrance that energizes the body, excites the senses and invigorates the spirit.

Orange

Gourmand orange zest is a robust citrus aromatic fragrance. With sweet and cheerful notes of orange peel and orange blossom, this aroma has intensity and a delicious ambiguity. Base notes of bitter Orange and Cashmere Wood will cleanse and refresh the air. Citrus oils are useful for their disinfecting properties and will make a sunny addition to your car.

orchid

This fantasy scent has mesmerizing fruit and floral notes that capture the exotic characteristics of a blooming orchid garden. It has middle notes of flowering plants with blooms that are often colorful and fragrant while being blended nicely with a white musk base. Treat yourself with a bouquet of Orchids every time you drive!

Patchouli

Sweet and dark with an earthy, woody edge, it is very popular in many blends, especially the contemporary woody floral musks. Patchouli can be polarizing, but sweet on the senses. Love it or hate it, its benefits are almost all encompassing - including mood, appetite, stress, and anxiety…like a month long jaunt through Burma.

Sandalwood

A classic woody note with an earthy scent. Reminiscent of deep woods mixed with floral hues and soft but rich deep undertones. Feels like you are barefoot, deep in a wooded grove with a babbling brook in the background - all to promote calmness and lower stress levels.

Santorini

Stemmy greens with citrus aldehydes and fresh herbs balanced with amber and musk. A medley of scents that vibe with bergamot, sweet verbena and fresh vetiver known to have healing powers. Enhanced by the ever so sweetness of rosewood and sandalwood, that will make you dream of the Greek Isles. With this fragrance, summer is a state of mind.

Tea Garden

Fresh and clean autumnal scent that has a complexity in its notes. Essential oils of lemon and cedar bring greater alertness and positive energy. Tea Garden has mildly spicy undertones that refresh and invigorate. A relaxing spot of tea in a beautiful Victorian garden, sipping in the shadow of an ancient castle. Tea Garden will have you feeling refreshed and ready to take on the traffic.